Normand's Tattoo
what's with the joker in the background?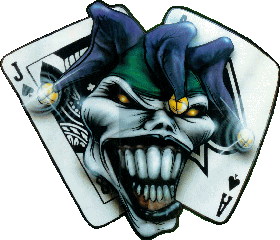 uring the summer after Normand's 19th birthday, we went on a family vacation to SUMFUN Cabins on Pemaquid Lake in Bremen, Maine. It was going to be a 90+ minute ride and Normand bought a couple magazines to read on the way. In one of the magazines was an ad for a new line of motorcycle parts. The joker in the ad really appealed to Normand. He ripped out the page, folded it up, and put it in his back pocket. On the right is the picture from the ad.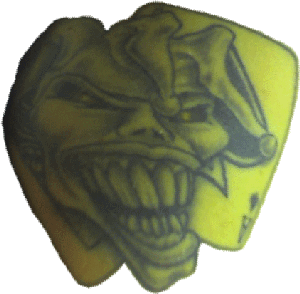 Sure enough, a couple weeks later, Normand came home with a tattoo of the joker on his right shoulder (see the picture to the left). The tattoo photograph was taken under poor lighting, so the colors are horrible. Normand thought the tattoo was the coolest thing! At the bottom of the page is a collage of Normand while he's havin' a great time mowing the lawn on Tim's tractor. These are the only pictures I know of that show his tattoo.
After the newness wore off, we didn't pay much attention to Normand's tattoo. I'd never really thought that much about it anyway. After Normand's fatal accident, I thought about his tattoo alot. I never had a tattoo, and never had a desire to get a tattoo, but now I wanted that tattoo on my arm.
To be true to Normand and his tattoo, I wanted an original photo of the ad that Normand started with. After two weeks, I couldn't find it anywhere. I posted a message on the tattoo forum of the Harley Chat Group, and within a few hours I had a lead. Somebody recognized it from Bourget's Bike Works. They had a motorcycle with that logo, and a new line of Black Jack Motorcycle Parts in 2004, advertised in the magazine that Normand had bought. I contacted Bourget's and was completely ecstatic to find out that I could order a poster and a shirt with the joker logo that Normand had gone to the tattoo parlor with.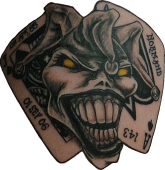 Armed with the image from the poster, I made my way to the tattoo parlor. After 4-1/2 hours, I came out with the tattoo pictured on the right. That is an actual photograph of the tattoo on my arm, in the same place that Normand had his. I never realized how much of an emotional connection a tattoo could have! As it says on my tattoo, "NORMAND 143."
Does everybody know that 143 =
I - 1 letter
Love - 4 letters
You - 3 letters
= I Love You!!
Many of Normand's friends and family also connected to Normand by getting a tattoo in memory of him.

Memorial Normand Tattoos:

Karen Audie, mom, Butterfly, hip
Roland Gagnon, grandfather, Biker, right shoulder
Mike Gagnon, uncle, Biker, right shoulder
Sara Patoine, cousin, Angel wings, hip
Kim Hirsch, aunt, Heart, right ankle
Sue Patoine, aunt, Angel wings w/halo, hip
Phillip Thompson, cousin, Honda wing, right shin
Jillian Blow, girlfriend, Rose w/wings, lower back
Lori Buhelt, aunt, Wings/heart/halo, right ankle
Lindsey LaChance, friend, Aries/initials, right hip
Bob Smart, friend, Heart & torch, right shoulder
Jeff Gagnon, cousin, Initials, right shoulder
Misty, friend, Kanchi w/initials, upper bicep
Lauren Patoine, cousin, Wings, right foot
Katie Audie, sister, Cross, hip
Joe Hirsch, uncle, Wings on pillar, right shoulder
Pris Gagnon, grandmother, Wings/halo/initials, rt shoulder
Kevin Thompson, cousin, Cross w/initials, right calf
Matt Cote, sister's boyfriend, Biker, right shoulder
Joel Gagnon, cousin, Initial, left bicep
Catherine Perreault, friend, Heart w/wings, left shoulder blade
Dave Rousselle, friend, Joker, right forearm
Luke B, friend, Biker, shoulder
Chris Lachance, friend, Initials, right bicep
Tim Hopkins, friend, Biker, right calf
Graig Morin, friend, Initials, right shoulder
Bruce Audie, dad, Joker, right shoulder

If you have a tattoo that I don't know about, please click on the comments e-mail link below and let me know about it....
Norm's Dad